Elevator to the Gallows – Recorded December 4-5, 1957 – Studios poste parisien (Paris) – Fontana


Miles Davis was 31 years old when he recorded the soundtrack of Elevator to the Gallows, his first score. In November 1957, the trumpet-player embarked upon a short European tour with pianist René Urtreger's trio. Marcel Romano, a concert manager and leading figure on the French jazz scene, was thinking of filming a few of the quartet's shows for a documentary, but due to a lack of funds, he had to give up the project. Romano, who is also a programmer for the Club Saint-Germain, has two young assistant film-makers in his audience, Alain Cavalier and François Leterrier, who have just contributed to « Elevator to the Gallows », Louis Malle's first feature film.

The editing of the film has just been completed, but its soundtrack does not meet the young director's expectations. Cavalier and Leterrier then submit to Louis Malle the idea of hiring Miles Davis' band through Marcel Romano. Failing to convince him, Romano and Malle ask Jeanne de Mirbeck to intercede with Miles Davis. She eventually succeeds in dragging her lover to a screening.

Elevator to the Gallows Soundtrack
Since his arrival in Paris, Miles felt like he was on vacation and, during the day, he would often drop in on me at the antique shop I had just opened on Place Dauphine. Writing film music was irrelevant to him, and I don't remember Marcel telling him about the film when we brought him home from the airport. Nevertheless, at Romano's insistence, she eventually convinced Miles to go to a private screening on December 2 at noon: « I see us walking along, relaxed, chatting and laughing. He said I was the spy, Marcel Romano's « Mata Hari ». After a brief greeting to Malle and his team, screening, goodbye, silent return to his hotel… Later in the day, coming out of the shower, he asked me for his cornet – an instrument that had just been given to him by the Couesnon company -, and played a few notes for me: « I want Michelot to play this bass line to accompany the actress when she walks at night to find her lover. I immediately phoned Marcel…  » On December 3, Miles signed at Fontana (a subsidiary of Philips) with Denis Bourgeois, Jacques Canetti's assistant artistic director and Boris Vian's accomplice, who was the artistic advisor. (Jeanne de Mirbeck )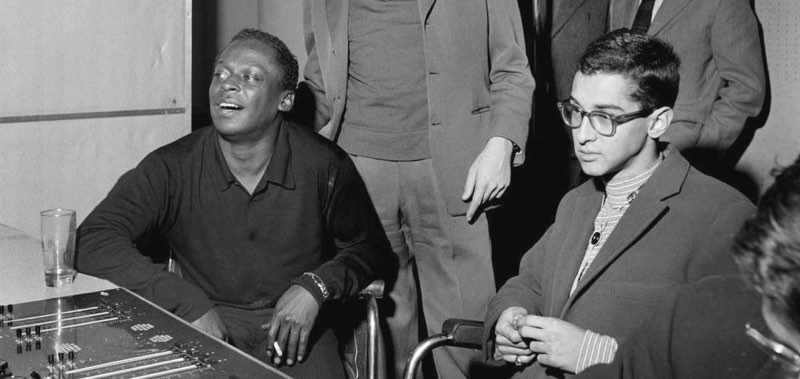 During the screening, Miles Davis had the details of the story explained to him, the relationships between the characters, and took some notes. The screening was not to take place until a fortnight later. The success of this tour was not what I had expected, and was summarized in five concerts, two in Paris, one in Brussels, one in Amsterdam, and one in Stuttgart plus a week at the Club St-Germain. So Miles Davis had plenty of time to think about the recording, he had asked for a piano in his hotel room, and when I visited him, I saw him working in a very relaxed way, he would write down a few sentences, and there I heard snippets of themes that were later used for « Elevator to the Gallows ». So it was with a few melodic ideas in mind that he entered the studio on December 5, 1957 at the Poste Parisien. (Marcel Romano)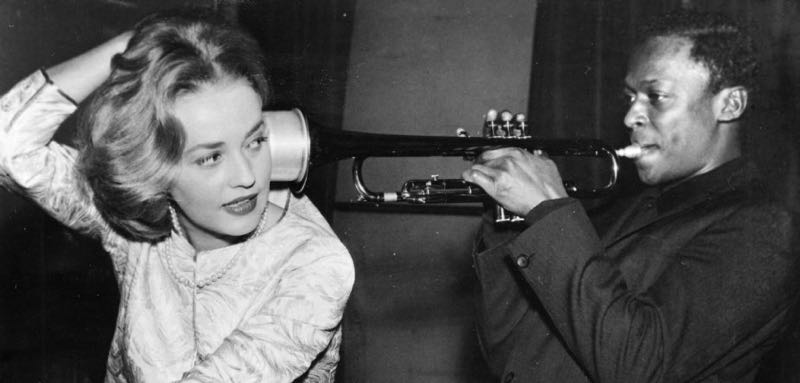 On the evening of December 4 1957, Miles Davis, Pierre Michelot (double bass), René Urteger (piano), Kenny Clarke (drums) and the new recruit, Barney Wilen (tenor saxophone), took their place in the main studio of the Parisian Post.
Jeanne Moreau is present and plays the mistress of the house serving drinks and refreshments. Louis Malle projects a few key scenes from the film on a large screen, including the sequence from the motel in Trappes and Jeanne Moreau's wandering on the Champs-Elysées in search of her untraceable lover.
From the outset, Miles Davis simply suggests to his musicians a simple modulation around two chords, a D minor and a C seventh. The trumpeter then launches into a melancholy and plaintive improvisation, guided solely by Henri Decaë's nightly photograph.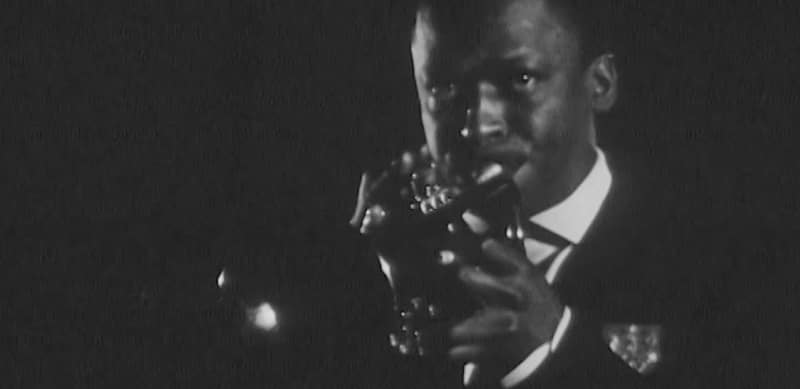 What characterizes this session is the absence of a definite theme. It was new at the time, especially for film music. With the exception of one piece (Sur l'autoroute), based on the harmonies of « Sweet Georgia Brown », we had only brief indications from Miles Davis. In fact, he simply asked us to play two chords – D minor and C 7 -, four bars of each ad libitum. This too was new, the pieces were not measured in duration. There were some semblance of structures, but they were a little out of sync with what was usually played. (Pierre Michelot)

At some point, Miles ran out of ideas. And suddenly, they started improvising on the chords of Sweet Georgia Brown. If there'd been piano, everybody would have recognized it and it would have been very mundane. Without piano, just with the double bass and the broomsticks, we're somewhere else. That's the magic of jazz. (René Urtreger)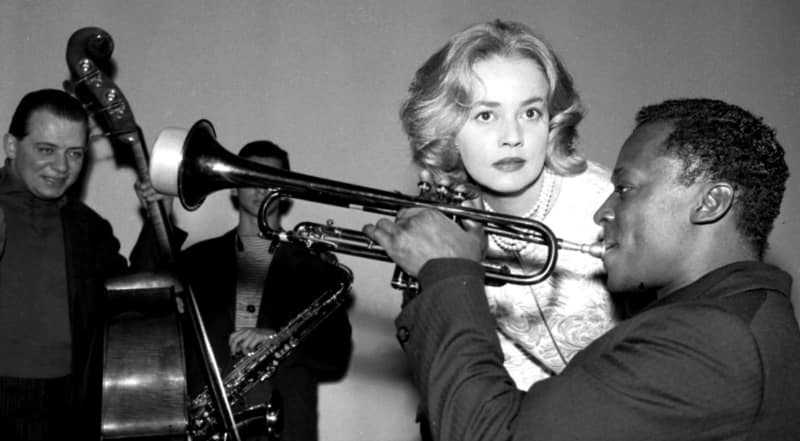 Around five o'clock in the morning, Miles Davis puts his trumpet back in its case and goes back to his hotel with his girlfriend, Jeanne, René Urteger's sister who, for his part, remembers having spent three quarters of « that filthy night waiting for a fucking drug dealer » on the studio stairs! That's why there are so many moments without a piano! And not by aesthetic choice!
In the early morning, we met up at Les Halles, at the Pied de Cochon, Louis was looking at Miles with the eyes of a child incredulous at the gift we had just given him. In his wildest dreams, no doubt he hadn't imagined what his film would be like, as if illuminated by Miles' incisive trumpet.
It happens quite exceptionally that the music takes on such a dimension that it remains and spreads more than the film itself. Elevator for the scaffold, in the words of Philippe Carles, « a great film by Miles Davis », a record, a music even before being a film! More precisely, « a film by Louis Miles ».
In this postman always rings twice a left bank version adapted from a Noël Calef novel, the elevator weave for the scaffold does not escape the conventions of the adulterous thriller. The music of Miles Davis will transform this minor film noir into a legend.
###
CREDITS :