Manu Dibango Africadelic – Recorded in 1972 at Pathé-Marconi studio Paris – AMI Records


Africadelic is the classic 1972 album composed and recorded in the span of one week by Manu Dibango, after the encouraging success of his monster hit « Soul Mokossa. » Here he continues to fuse Afro-Caribbean flavors with the contemporary Latin and funk influences of the day, resulting in a highly soulful, highly danceable album.

Born in Cameroon in 1933, Manu Dibango moved to Paris at the age of 15, where he began to play the saxophone and piano. By the early Fifties, he was gigging around Paris and would soon become a regular on the European jazz circuit. His recording career began in 1968, with a self-titled album, and in 1972, during a trip to New York, he would write and record his most famous song, « Soul Makossa » a proto-disco anthem that would become the first major international African hit.

Manu Dibango Africadelic

With Guadeloupe's Joby Jobs on drums and Manu Rodanet on tumba, Zaireans Gerry Makelani Bokilo on electric guitar and Freddy Mars on percussion, Cameroonian Long Manfred on bass and French keyboards Patrice Galas and Georges Arvanitas, the orchestra illustrates an ideal musical melting pot.

In September 1973, the critic Vince Aletti was one of the first to identify the birth of a new phenomenon and the contribution of percussive music to disco :
« Soul Makossa » is one of the most amazing and perfect examples of this disco music. It is characterized by an often Afro-Latin instrumentation and sound, with an obvious emphasis on drums, almost non-existent lyrics, sometimes in a foreign language, and a very present chorus on the best known songs, usually the longest and most instrumental, played by black groups that are usually not American.
Back in 1967, Gesip Legitimus (French TV's first black conductor), had asked Manu Dibango to conduct his big band Pulsation, for the first time on French TV.
A few years later, in 1971, still backed by the same Big Band, Manu Dibango created and developed a new, urban musical style, the Afro-Soul-Thing, which was a message addressed to the Caribbean Afro Diaspora, a sort of appeal to them. It is an intriguing message, a mix of musical influences like Soul, Funk, Latin, inspired by African rhythmic power.
A more modern form of French TV appeared at the time, with a growing need for sound illustrations. So, it is difficult to find urban African music on the French musical scene. Since African Voodoo turned out to be such a great success, a year later in 1972, Manu Dibango composed, produced and played on the incredible Africadelic in less than a week. Africadelic was a musical project dedicated to TV and radio professionals just like African Voodoo was.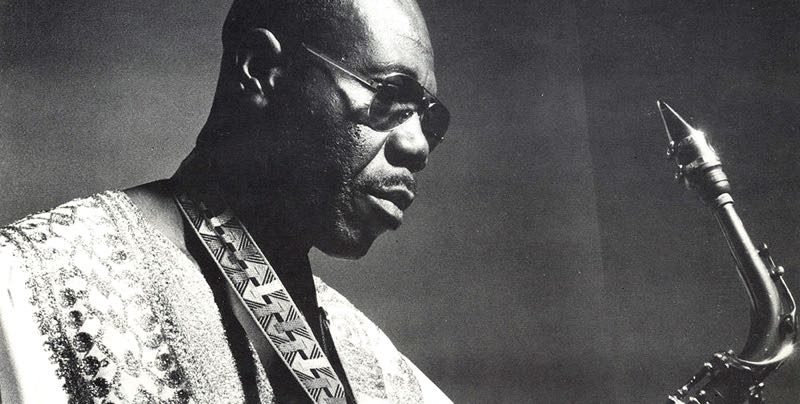 A few years later, after the breakthrough of Soul Makossa all over the world, and under pressure from fans spellbound by the Afro-Soul-Thing, everyone agreed that it was not only obvious, but necessary to release Africadelic nationwide.
So, it was through a misunderstanding, and thanks to the record company Mondiophone, that Manu Dibango's Africadelic became available in most good record shops in 1972.
It builds bridges between Olatunji's African percussion and James Brown's hypnotic groove. Short titles thus obligation to go to the essential, no time to do an incantatory dance before the sacrifice of the listener on the altar of Afro-Soul-Thing.
Directly plunged into a boiling pot of voodoo and tribal funk groove, scarification with great blows of guitars, trampling by a herd of massive brass instruments whose manufacture undoubtedly required a huge part of the Zambian production of this ore, the smooth running of the rite being guided by the percussions that lead to the ultimate torture: the impalement by the javelin-saxophone of the master of the place.
That's the stuff I was doing in 1972… At the time, we needed background music, there were no rhythmic instrumentals. There was Paul Mauriat, the golden trumpet things, but it lacked spice. So I made two or three albums like that, « African Voodoo », « Africadelic », for radio and TV, when there was a report and you needed « African » illustration music, or something else… These albums were not made for trade. Still, only the finest musicians play on this album ! At the time it was said that I was versatile. But I like to be versatile, in the American sense. (Manu Dibango)
This record contains twelve stunning instrumentals, mixing jazz, blues, samba, soul, calypso and biguine. A meeting of voluble percussion, bubbling brass, electric guitars and organ strings, these pieces were designed to illustrate possible television and radio shows, in the same spirit as African Voodoo, another cult album signed by the artist.
Africadelic functions as a broth of Afro-Cuban, African and American influences, in total adequacy with the times, like guitars openly inspired by Isaac Hayes' Shaft on the aptly named « Wa Wa ». The robotic drums and the undulating bass, the unexpected breaks, the echo effects, the brass explosions and the percussion rolls announce in a way the modernity of disco.
On Cold Sweat, do you know where the brass pattern comes from? From a piece by Miles Davis. That's the link between jazz, Africa, and funk: going from ternary to binary. You change a bit of a sentence, and off you go! I'm glad they're bringing those things out again today – it's never too late… We still feel like we haven't done anything wrong, but we've actually done a lot here. Yes, I think we've done a lot… (Manu Dibango)
Re-issued by the Hy & Fly label, Manu Dibango Africadelic is one of those albums to which sampling has given a reputation of grail as the number of copies in circulation became scarcer, thus increasing their ratings considerably.
###
CREDITS :
Featuring

– Manu Dibango And His African Pop Group

Written-By

– L. Delacour*, Manu Dibango

Composed By, Conductor

– Manu Dibango

Engineer

– Alain Butet

Engineer [Assistant]

– A. R. Bourdet

Producer [Artistic Direction]

– Louis Delacour
Mastering By Jean Pierre Bouquet at « L'Autre Studio »